A group of talented entertainers, local businesses, organizations and concerned citizens came together recently in a very successful effort to raise money for abused children's charities.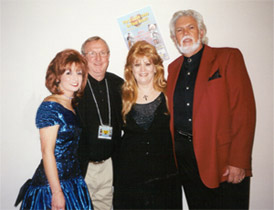 The Put a Little Love in Your Heart concert held in Surrey this Fall featured top-quality musical tribute performances and left the audience clapping their hands, stamping their feet, and looking forward to next years' concert.
One thousand people attended the third annual benefit, which was a family affair with entertainment for all ages. Low ticket prices made the concert affordable to almost anyone in the community and their families.
"It was a win-win for the audience, the charities and the community", said Marty Edwards, who produced and organized the event.
Founded by Marty and Jude Edwards, the annual event is a great example of concerned community members coming together to make a real difference to the lives of children in need.
Dedicated community members made it happen…
"We're fortunate to have a very dedicated team of volunteers organize the event annually," explained Marty, adding, "It's a lot of fun, and most importantly, everyone is excited about making a meaningful contribution to help abused children."
Marty also entertained at the event, performing his well-known tribute to Kenny Rogers, along with MCFD's Darla Cooper (Correspondence Branch in Victoria) who performed with her singing partner Candy Little as "The Judds" (Darla as Wynonna, Candy as Naomi). Many other locally well known, talented tribute acts also contributed their time and talent to help the cause.
Minister of Children and Family Development Gordon Hogg was on hand to lend support to the charitable occasion and was even coaxed to join in the stage.
Child protection is still at the heart of the ministry's mandate, as children have the right to be protected from abuse, neglect, harm and fear of harm.
The concert was produced in cooperation with the Vancouver Police Union Charitable Foundation (VPUCF). VPUCF undertakes charitable and education programs to help prevent child abuse and aid its victims.
"We have to ensure the safety of the children as the paramount goal of the ministry."
Honourable Gordon Hogg, Minister of Children and Family Development CBC (Island) October 2001