Marty Edwards (a.k.a. "Kinda Kenny") performs a world-class tribute to Kenny Rogers. His performances have excited audiences at the Merritt Mountain Festival that drew a crowd of 117,000 last year, the Vernon Funtastic Sports Festival, the International Wing Ding Rally in Billings, Montana that draws thousands of Gold Wing riders from across North America along with regular performances at other Festivals, Golf and Country Clubs, lounges and corporate events.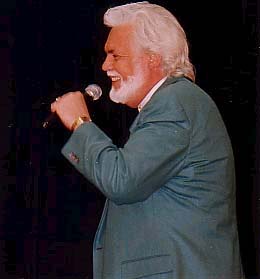 Marty admits that he gets enormous rewards from 'copying' a famous country legend like Kenny Rogers and in return he puts aside a couple of months to give back by organizing the "Put A Little Love In Your Heart" benefit concert.
The Put A Little Love In Your Heart benefit concert this year is scheduled for Oct 5, 2002 at the Chandos Pattison Theater in Surrey, BC. For the next couple of months Marty's time is spent getting sponsors, performers and volunteers to work along side of him and manages the meetings needed to pull everything together for the big event.
It was in 1998, when Marty organized the first "Put A Little Love In Your Heart" (PALLIYH) benefit concert, his one goal was to raise money to aid abused children. He, himself was not an abused child, but reading an article in the Reader's Digest brought to light the high rate of abuse that goes on in almost every neighborhood, every day. He wanted to help.
The first benefit concert was a variety show that included several local groups and entertainers with big hearts, willing to give their time for free. He was one act short and decided that he would try a Kenny Rogers tribute. Noted producer James Bowers, who had worked with Marty as "Marty Edwards the singer", had previously suggested that Marty had the looks and the voice for impersonating Kenny Rogers. So, "Kinda Kenny" did his first show as the closing act of the 1998 PALLIYH benefit concert.
The audience loved him and he has been performing for audiences ever since.
Even during his 2 months of working on the benefit concert, Marty was the headliner at the Abbotsford Berry Festival and the Royal Colwood Private Golf and Country in Victoria, BC during the past 2 weeks. As well as a number of private Corporate performances, he will be performing at the Pacific National Exhibition at the end of August and is also scheduled as a special guest of "Nearly Neil" at the Bella Vista Winery in Vernon, BC on August 11th.
You can contact Marty's management at:
contact@kindakenny.com
Phone: 250-769-9003
Fax: 250-769-1582