"Kinda Kenny" - Marty Edwards Tribute to Kenny Rogers
Don't be fooled when you check out the new website at http://www.kindakenny.com/. It is not Kenny Rogers, but it is that incredible tribute artist "Kinda Kenny". Marty Edwards who performs as "Kinda Kenny" is a "look-alike" AND a "sound-alike" which makes him special.
Marty Edwards used to be embarrassed when people mistook him for Kenny Rogers but now he takes it all in stride, along with his success as an artist performing a tribute to the great Country Legend, Kenny Rogers.
This occurs on such a regular basis that he now realizes that Kenny must have a million interesting stories about fans approaching him or trying to get his attention.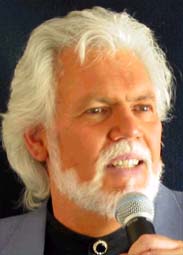 One such story for Marty was while at a Kenny Rogers concert. Miss Montana 2000, Brandi Bjorklund, approached Marty who was sitting in the audience prior to the concert starting. She asked if she could have his autograph and her picture taken with him. Marty asked, "Do you know who I am?" "Of course", she replied, "You're Kenny Rogers".
At another Kenny Rogers concert, Diamond Rio singer, Marty Roe commented that there ought to be a law against people impersonating a 'Super Star' like Kenny Rogers, as he pointed Marty out.
At the same concert, Kenny came out on stage, took a double take when he saw Marty sitting in the audience, and asked him to stand up and introduce himself. After the concert, Marty commented that he should have replied "I'm Kenny Rogers and who might you be?"
At another time, Marty heard someone yelling "Kenny!" "Kenny!" When Marty turned there was a fellow on the street videoing Marty walking to his car, under the impression that he was videoing Kenny Rogers.
"Kinda Kenny" performs on a regular basis. His next shows are on the B.C. West Coast in Canada followed by a couple of tours with "Legends Alive!", the Calgary Stampede, a private function for the B.C. Firechiefs Association and other shows up and down the coast.
He and a friend have also been busy putting together the 1st ever "Valley Music Festival" in Peachland, BC. This 2-day festival will be the biggest thing that has happened in the Peachland area. Details are on www.valleymusicfestival.com. The Friday night show includes so far, the Cruzeros, Malcolm and Moore, and a variety of local artists.
The Saturday night show includes top tribute artists, Buddy Holly, Elvis, Kenny Rogers, Tina Turner, Shania, etc.
Marty also continually works on the 6th Annual Put A Little Love In Your Heart benefit concert to help abused children. Information is posted on http://www.stardaze.com/.